Comic Collection Browser, comic reader and browser
The Comic Collection Browser is a comic reader and browser that shows you what you love: your comics. You start by just pointing out where you store your comics and then enjoy reading your comics at an instant. The filetypes cbz, cbr, pdf and zip are supported, so a huge volume of comics can be accessed. The Comic Collection Browser also shows directories filled with pictures as comics making it easy to create your own comic. Download the Comic Collection Browser Now!
Comic reader and browser
The Comic Collection Browser delivers the fasted tool for browsing your collection, so you can take your time reading your comics. After a quick look at your comic collection it will show you the thumbnails of your series, that help you find the treasure you want to read. While you read, the other series are processed in the background, so your next read will be there when you need it.
View all comics extensions
After Comic Collection Browser finishes with the scan, you can see all your Collections. Lets say you want to explore the comics you downloaded from the excellent Digital Comic Museum, just click on the Collection and go!
After you finish reading, just close it. Next time you open the Comic Collection Browser, you'll start in the Comic you were reading.

Zoom in as much as you want and read comic with one click Z-scroll
Zooming in on images works with the [+] and [-] keys on your keyboard, ctrl-mousewheel or pinch on touch screens. Reading you comic is a one click thing. Arrow right or click on the right of the image will enable Z-scroll that takes you through your comic. The last click on the page takes you to the next page. And the last click on the last page of your Comic takes you to the next comic in your series.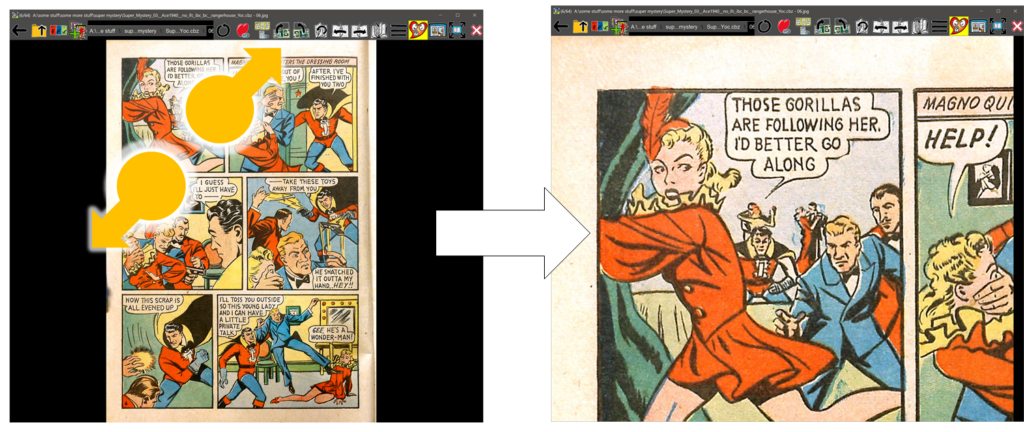 Read western comics left to right, or Japanese right to left
All the thing also work from right to left. Just go to settings and change to the Manga way of reading. And go back to your comic. Now it does everything left to right. Left arrow moves to the next panel, next page or next Comic. Input through buttons, the mouse, touch is also mirrored to work intuitive from right to left.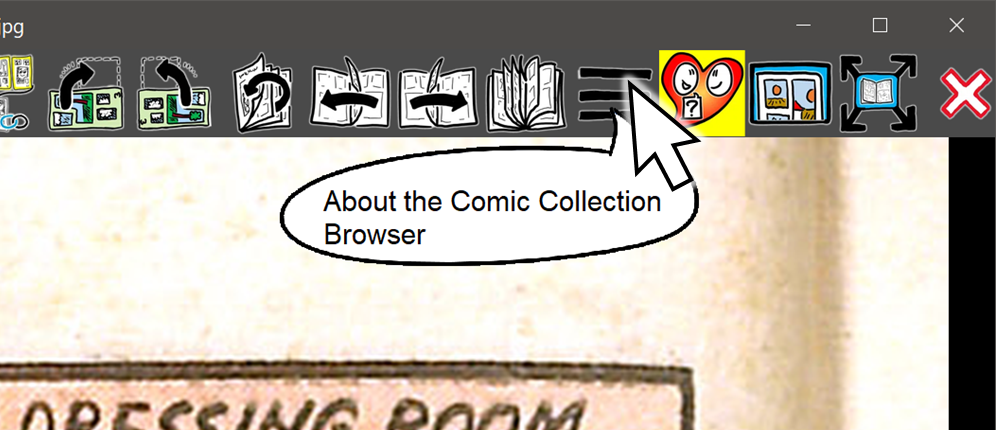 Look at images and films in a directory as if they are a comic
The Comic Collection Browser finds your images and films on the drive you let it scan. Just go to the Collections overview to see them.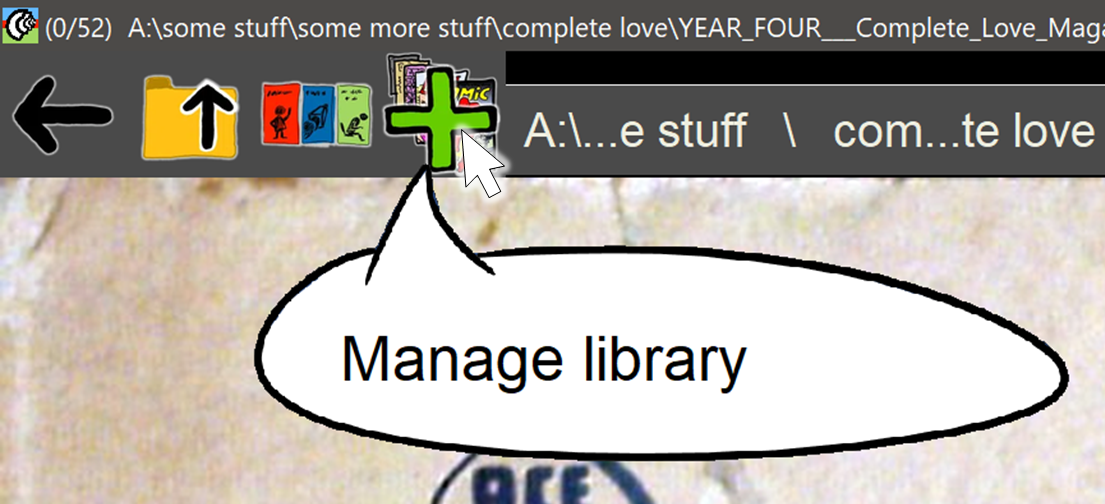 Animated gifs and mp4 files are shown in full motion.
A new thing in comic writing is animated comics or moving comics. The Comic Collection Browser supports reading animated/motion comics out of the box, thus opening up this new animated world for you. Reading the comic, zooming and browsing all works seamlessly, making you comfortably read the animated comics.
Compose your comics from other comics.
Some weekly magazines contain stories that continue from week till week, two/three pages at a time, which makes it hard to follow the story. With the Comic Collection Browser you can combine all those pages combined into a new comic. After which you'll be able to read the whole story in one go.
A comic reader and browser that is Friendly to the touch
The Comic Collection Browser works great on a landscape monitor. Smooth one-click scrolling enables you to read your comic on any laptop or pc. Moreover it is also designed to offer best in class reading performance on Windows 10 tablets. The Comic Collection browser uses every inch of screen-space to show you the comic, the whole comic and nothing but the comic. That makes it possible to read comics like they were supposed to be read, seeing the whole page at once. Cute looking pictograms replace the mouse to show you what happens. So you know how to do your thing without need for a manual.
Download from the Windows 10 Store, safe and up to date.
The Comic Collection Browser is distributed through the Windows 10 Store. This means the engineers of Microsoft have investigated the code and gave it an all's clear. You get what you want: the best comic book reader out there. Another plus for you is that every update will be automatically delivered to your pc, no need to hunt for newer versions.
Download now from the Windows 10 Store!
Art and craftmanship, a work of love
The Comic Collection Browser was born from the authors love for comics and that shows. To pay homage to the art of the pen, the whole interface acts like a comic. Hand drawn icons show you the way and pop up boxes talk to you in comic bubbles. This all comes together to transport you into another world. A world of comics.
Best resources for getting comics:
Of course you want the Comic Collection Browser because you already have an great collection of comic books, but what if you want more?
Adding comics by scanning your paper collection is one way of reading more digital comics. An other is downloading comics, here are some nice links for the latter: